Hello! I thought I'd put together a little blog post today to conquer the task of making phase 2 on our medical weight loss program a little more appealing. Honestly, there is only so much you can do with the food list on phase 2 and I tell patients all the time to not overcomplicate it. Ultimately phase 2 is NOT about the foods, but having a mental reset, weight loss, and cleansing our bodies of sugar and carbohydrates. IT IS TOUGH, BUT SO WORTH IT! You'll learn a lot about yourself during Phase 2 of your program and stripping it down and having a simpler way of eating will really start to change your taste buds and attitudes toward the foods. Next time you are meal prepping for the week, try this great Spicy Chicken recipe that's super easy to bring on the go!
Phase 2 HCG diet Recipe Blog Post: Spicy Chicken Tomato Cups
Protein + Veggie
Ingredients
· 7 oz ground chicken skinless
· 4 tomatoes large
· 1 tbsp onion chopped fine
· 1/2 tsp garlic minced
· 1 tsp salt
· 1 tbsp chile powder
· 1 ½ tsp coriander
· 1/2 tbsp parsley freshly chopped
Instructions
1. Cut ½-inch slice off the top of each tomato. Scoop out and discard the seeds. Remove most of the flesh and all the excess juice. Place the tomato cups on a rimmed baking sheet, lined with parchment paper. Set aside.
2. Preheat oven to 350 degrees F.
3. In a medium skillet over medium heat, sauté the onion and garlic until tender and softened, approximately 3 minutes. Add the ground chicken and cook for 6 minutes, breaking up the meat with a spoon
4. Stir in salt, garlic, ground chile powder, & ground coriander.
5. Remove from heat. Stir in fresh parsley.
6. Stuff ¼ cup of the chicken mixture into each of the tomatoes. Cover loosely with foil and bake until the tomatoes are tender and filling is hot all the way through, approximately 25 minutes.
You can also use 95-99% ground beef in this recipe instead of chicken, depending on your preference.
This is the perfect meal to make and cook ahead of time for lunches throughout the week. To make sure the tomatoes don't get too soft, simply cook 5-10 minutes less than the cooking time. Reheat in the microwave for 2-3 minutes when ready to eat. You are able to have 2 stuffed tomatoes on Phase 2 HCG diet per meal.
AUTHOR
---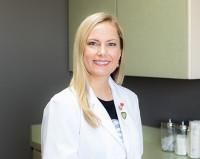 Balance Wellspace Integrative Medicine
---